Ballantyne Award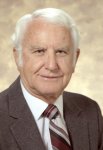 The Alando J. Ballantyne Resident Research Pilot Grant memorializes Alando J. Ballantyne, M.D., a giving teacher, dedicated surgeon, and a devoted husband and father.  This award, in the amount of $10,000, is given to the best grant application by a resident.
Alando J. Ballantyne Biography
Alando J. Ballantyne, M.D., known simply as Jay, grew up in a loving Mormon home that taught him the values of family, excellence, integrity and hard work.  Dr. Ballantyne graduated Phi Beta Kappa from the University of Arizona and was then awarded a scholarship to Columbia Medical School.  During World War II, Dr. Ballantyne served as an army captain and medical doctor and had the good fortune to meet his wife, Maria, in San Antonio.  In 1947, Dr. Ballantyne became the first resident at the new M.D. Anderson Hospital in Houston.  After his year-long residency, he went for further training at the Mayo Clinic in Rochester, Minnesota.  He returned to the Anderson staff in 1952, where he quickly advanced from Assistant Surgeon in the Head and Neck Service to Associate Surgeon, and then from 1974 until his retirement in 1994, held the title of Surgeon and Professor of Surgery in the Department of Head and Neck Surgery as well as the title of Ashbel Smith Professor.
Dr. Ballantyne is credited as the first surgeon in the United States to pioneer modified radical neck dissection.  His contributions to his subspecialty, the result of an undying curiosity and uncanny powers of observations, have been published in numerous scientific papers and book chapters.  Dr. Ballantyne lectured at local, national, and international forums and loved his travels.  He held memberships in many distinguished medical and surgical societies and served as President and Hayes Martin Lecturer of the Society of Head and Neck Surgeons and President of the Texas Surgical Society.
To honor the contributions of this world-renowned surgeon, the Cynthia and George Mitchell Foundation established the Alando J. Ballantyne Distinguished Chair in Head and Neck Surgery at the University of Texas M.D. Anderson Cancer Center.
Dr. Ballantyne's contributions to the subspecialty of Head and Neck cancer surgery have been the result of an undying curiosity and uncanny powers of observation.  He was the father of conservative surgery, removing the cancer while preserving the function.  He had a relentless desire to eradicate his patients' disease, yet was able to balance this fervor with a desire to maintain quality of life for all his patients.
Always an advocate of reconstruction and preservation of cosmesis as well as function, those fortunate enough to have worked with him and been taught by him are forever indebted to his wisdom, surgical expertise, and devotion to his patients.  He was beloved by his patients, admired by his peers and idolized by his family.
The Alando J. Ballantyne Resident Research Pilot Grant is funded by the generous contributions of members of the Ballantyne family, including Dr. Gilchrist L. Jackson, a respected member of the American Head and Neck Society.
Past Ballantyne Award Winners
2003: Mark Jameson, MD, PhD
2004: Douglas Reh, MD
2005: Seungwon Kim, MD
2006: Chad Galer, MD, PhD
2007: Vivian Wu, MD
2008: Rolando Rosas, MD, MSc
2009:  Alec Vaezi, MD, PhD
2010:  Vlad Constantin Sandulache, MD, PhD
2011:  Johnathon R. George, MPH, MD
2012:  Neerav Goyal, MD, MPH
2013: Michael Sim, MD
2014: Jennifer Wang, MD
2015: Michael Chan-Wei Kao, MD
2016: Paul Zolkind