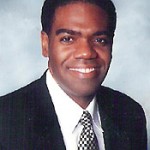 In November of 2011 the medical community, as well as colleagues, friends and family, suffered a great loss when Dr. Duane Sewell passed away at the age of 44 following a battle with gastric cancer.  Dr. Sewell was an Associate Professor in the Department of Otorhinolaryngology-Head & Neck Surgery at the University of Maryland.  Dr. Sewell was a dedicated physician who was passionate not only about alleviating the pain and suffering of his patients; but, as a surgeon-scientist and immunologist discovering more about the biology of the disease and the host immune response.
Dr. Sewell earned his bachelor degree from Harvard University and then continued graduate studies at the University of Pennsylvania School of Medicine.  Following graduate school, Dr. Sewell took a surgical internship at John Hopkins Hospital from 1995 to 1997, and then a residency in the same institution.  Just prior to joining the University of Maryland School of Medicine in 2007, Dr. Sewell was a head and neck surgery fellow, and then an assistant professor, in the Department of Otorhinolaryngology at Penn.
Dr. Sewell was also a member of the American Head and Neck Society (AHNS) and, through the Research and Education Foundation of the AHNS, we feel honored to now offer the Young Investigator Award in Memory of Duane Sewell.  This award, which is offered in conjunction with the American Academy of Otolaryngology, will provide up to $20,000 annually to a head and neck fellow or assistant professor pursuing research in neoplastic diseases of the head and neck.  The Foundation is currently accepting donations and pledge commitments to help fund this award.  Please consider giving today.
Award Winners:
2003: Eben Rosenthal, MD
2004: Jeffrey Wolf, MD
2005: Steven J. Wang, MD
2006: Michael Kupferman, MD, PhD
2007: Andrew Sokora, MD, PhD
2007: Mihir Patel, MD
2008: Brandon Bentz, MD
2008: Mark Jameson, MD, PhD
2009:  Babak Givi, MD
2009:  Rutherford Ongkeko, MD, PhD
2010:  Thomas J. Ow, MD
2010:  Yelizaveta Shnayder, MD
2011:  Paul M. Weinberger, MD
2011:  Natalya Chernichenko, MD
2012:  Allen Szu Hao Ho, MD
2013:  Nicole Schmidt, MD
2014:  Joseph Curry, MD
2015:  Clint Allen, MD
2016:  Jessica Moskovitz, MD